Is your business struggling to improve cash flow? It may be time to consider upgrading your printers to enhance your business operations. Clear Choice Technical Services in Stockton can help you upgrade your printer to a superior one. Trust our experts to help you make the best decision for your company and take the first step toward improved efficiency and cost savings. 
Clear Choice Technical Services has listed five reasons how upgrading your printer can help your business here in Stockton.  
Increased efficiency
Upgraded printers often have faster print speeds, larger paper capacities, and automatic duplex printing capabilities, which can help increase productivity in a busy office environment. This can help employees to finish their print jobs faster and move on to other tasks.
Advanced security measures
Many newer printers come with advanced security features such as secure printing, user authentication, and network encryption. These can help protect sensitive business information from unauthorized access.
Wireless capabilities
Upgraded printers often come with built-in wireless connectivity options, allowing employees to print from anywhere in the office without the need for a physical connection. This can increase mobility and flexibility for employees, allowing them to print from their laptops, tablets, or smartphones.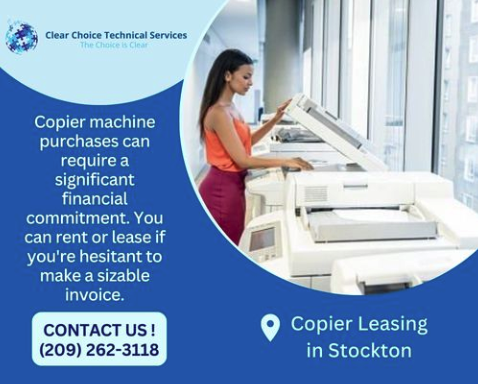 Higher print resolution
Newer printers often come with advanced features such as higher-resolution printing and automatic colour calibration, which can result in sharper, more accurate, and vibrant prints. This is especially important if your business requires high-quality prints for marketing materials, reports, and other important documents.
Lowered maintenance expenses
By upgrading your hardware devices, you'll replace older, less efficient equipment with newer technology that will enhance the performance of your copier. By upgrading, the likelihood of breakdowns will decrease, resulting in savings on maintenance costs.
Upgraded features
Some printers can now connect to cloud-based services such as Google Drive, Dropbox, or Office 365. Moreover, Many new printers come with a touchscreen display that allows you to easily navigate the printer's menus and settings. Upgrading your printer can be cost-effective in the long run for a business. Printers now have ink energy-saving features that may lower your cost in ink supply. 
Upgrading office equipment, like printers and copiers, may not seem like a priority, but it can bring many advantages to your Stockton business. By investing in new equipment, you can improve performance, productivity, and efficiency while saving money in the long run.
Upgrade Your Printers at Clear Choice Technical Services
If you're considering upgrading your office equipment, don't hesitate to contact our expert upgrade services. We can help you evaluate your current equipment and recommend the best options for your Stockton business's needs. Call us at (209) 262-3118.
If you plan to get copiers for your office in Stockton, you can opt to buy copiers or lease copiers in Stockton. We can give you the option to get the copier that you want.  You can contact our local copier leasing services department in your location.
If your Location is around Stockton, you may call us at (209) 262-3118, and our personnel for copier leasing in Stockton will assist you.   If you are also looking for copier repair services in Stockton you may contact our copier repair personnel at the same number.